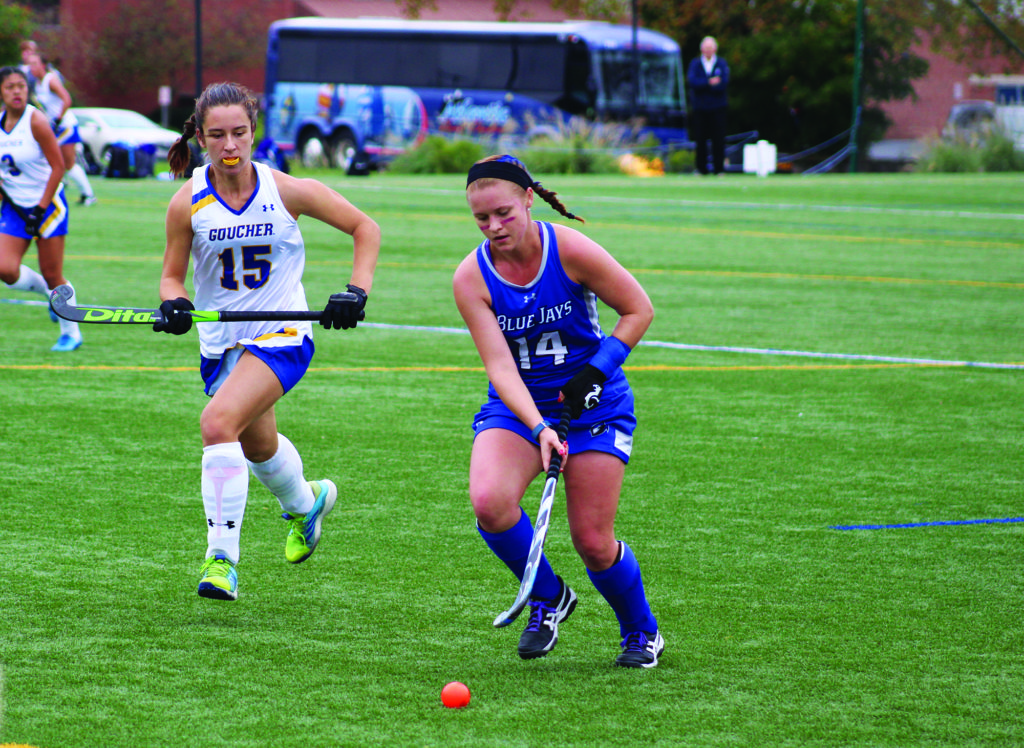 Saturday, Oct. 14, the Elizabethtown College Blue Jays field hockey team faced off against the Goucher College Gophers and racked up another shutout victory 4-0.
The Blue Jays were able to beat the Gophers in shots on goal with a 15-7 ratio in Etown's favor. A strong defense let Etown coast through the game with only a few saves needed from the goalies. Etown continues the season with a 7-7 record (3-2 Landmark).
Saturday's home game started slowly as a dogged defense worked to keep Goucher out of Etown's goalie net. Cooperation from the defense and midfield brought the ball to Goucher's goal box.
Twenty-one minutes into the first half, senior Megan Eppley passed to graduate student Charity Good, scoring the first goal of the game.
Less than two minutes later, the ball made its way to senior Emma Christman who sent it senior Allie Patterson's way for an off-the-crossbar goal, putting the Jays up 2-0 over the Gophers.
Another two-minute blitz followed before Etown newcomer, junior Maggie Fees, made her first goal of her career at Etown. Sophomore Olivia Beachley, with Good on her side, passed to Fees, who quickly pocketed the goal, ending the half with a 3-0 lead.
Fees is no stranger to the rigors of college athletics. Before coming to Etown, she was a Division II player for West Chester University and was an NCAA Academic All-American her first year at West Chester. While on the team, Fees experienced the NCAA Final Four and played with some of the best.
In the second half, Etown's defense came out strong, keeping Goucher out of range of goal. Juniors Renee Grills and Kendra Downey made a big effort in pushing Etown closer to making the fourth and final goal of the game and securing the shutout victory for their teammates.
The final goal was scored by Christman with an assist from Beachley in the 52nd minute. Hitting off the corner, Beachley's shot was intercepted by Christman and hit right into the goal. This marked Christman's tenth goal of the season, making this her second season in a row scoring 10 goals or more for the Jays.
Junior goalie Margo Donlin made two saves in the first half and was relieved by junior Hannah Mack at the half, who made one save to seal the shutout.
The field hockey team plays another home game on Wednesday, Oct. 18 at 4:30 p.m. against the Rowan University Owls.