Elizabethtown's Tempest Theatre is hosting its first play of the year this upcoming week.
"Medea" was originally written in 430 B.C. and has had multiple adaptations since. Etown's theatre department is doing Liz Lochhead's Scottish feminist version. "Medea" is a play that centers on the controversial roles of males and females and how revenge can torment one's soul.
"Medea," although written many centuries ago, presents potent themes that are relevant to the 21st century.
The director of the play and Director of theatre and dance Dr. Michael Swanson comments that "Medea" is a play about an immigrant refugee, which is controversial and a prominent issue in our time.
The story of "Medea" takes place in Corinth, Greece. The beginning of the play discusses Medea and her husband Jason's past.
Medea helped her husband steal the Golden Fleece, so that he could have the kingdom of Thessaly. She also murdered her own father in efforts to help Jason. In present time, Jason is Medea's ex-husband. She learns that he intends to marry a Corinthian princess.
Medea is exiled from the country, and she begins to plot her revenge. She will stop at no lengths until Jason is left with absolutely nothing.
In Liz Lochhead's feminist version, "the old battle between the sexes occurs in a deadly way," Swanson said.
Lochhead's adaptation focuses on the oppression of women. In her rendition, the chorus of women are "women from all walks of life, as opposed to the traditional cast of women from just the Greek village," Swanson explained.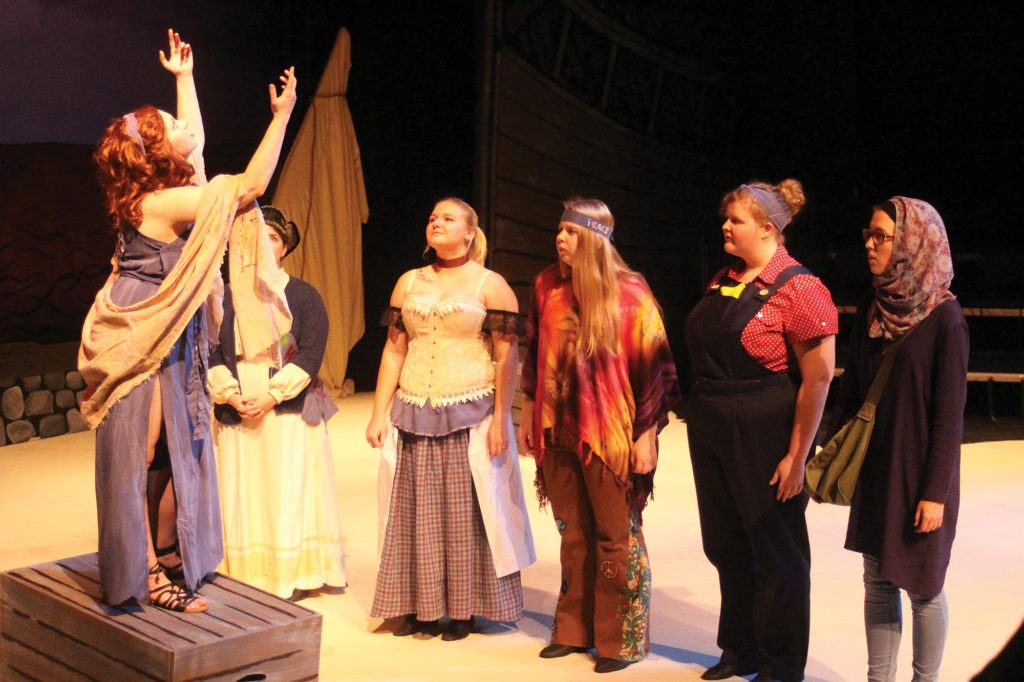 Etown's first performance of "Medea" is Thursday, Nov. 2. The play runs until the following Sunday, Nov. 12. Tickets are $7, and are available for reservation by contacting the boxoffice@etown.edu.
The main cast includes the following students: senior Katherine Campbell as Medea, junior Tyler Rossi as Jason, junior Anna Sorrentino as Gluake, junior Dante Sarracino as Kreon, junior Emily Leister as the Nurse and sophomore Ethan Waugh as the Manservant.
Leister loves acting because of the performing aspect, in addition to working with the other cast members.
"The cast of this production are some of the most talented and dedicated people I have ever met, and they've taught me so much through their patience and experience," Leister said.
She has also had the opportunity to work with different people.
"Acting in 'Medea' allows me to meet a lot of cool people that I might not have met before, considering they have different majors and interests than me," Leister said.
She is grateful to be a part of the theatre major at Etown because it has helped her develop as an actress and a person.
The students began rehearsing for the production six weeks ago. Scheduled rehearsal time is from 7:30 p.m. to 10:30 p.m. five days a week.
"Not everyone is required to be there the entire time; it just depends on the scenes we are rehearsing that particular day," Swanson said.
The students have been working hard on the production.
"I have enjoyed working with the students, and seeing how they interpret the different characters," Swanson said.
Swanson adds that he helps them with their interpretations through directional help. He likes working with a variety of different artists, such as cast members, makeup artists, costume designers and stage production.
"I love getting to work with a diverse group of people aimed at accomplishing a common goal," Swanson said. "[It is] one of the most fulfilling parts of being a director."
The Tempest Theatre selected the play "Medea" because it is a classic piece. Three faculty members and two student theatre members chose this play.
"This is a neat performance opportunity for the students," Swanson said.
"It is a play worth seeing!" Leister said.
The showings for the play are Nov. 2, 3, 4, 9, 10 all at 8 p.m. and Nov. 11 and 12 at 2 p.m.